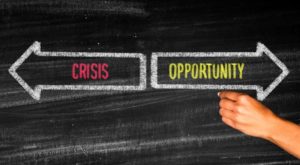 By definition, a Crisis is
A time of intense difficulty
A time to make a difficult decision
A turning point.
I like a turning point.
This was the topic I heard online for my own church on Sunday.
It was so enlightening and provided such a great perspective.
This can help give us focus.
There is only so much we can truly control.
This crisis is GIVING us the OPPORTUNITY to:
Be generous or selfish
Show our true character
Live with purpose
Make the most of our time
Live with intention
Create
See this situation as a gift for us to try to rest and take care of ourselves
Take better care of our planet
Spend time with family
Reconnect with others
Do service or charity work
This crisis can be an opportunity! IF you see it that way.
Do you?
Take care and Do Not Waste A Crisis.