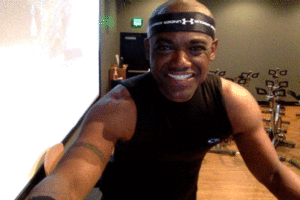 De'Andre Wells served in the U.S. Army's Special Forces Group from 2001 to 2006 and gained extensive physical and mental training that came with three tours of duty during the global war on terrorism.
Having served in Iraq, Kuwait and Jordan, Wells earned the Army's Good Conduct Medal; Global War on Terrorism Expeditionary Medal, Global War on Terrorism Service Medal, the National Defense Service Medal and several other accolades.
Wells also suffered from Post-traumatic Stress Disorder – or PTSD, gaining 80 pounds, slipping into deep depression and he said he felt hopeless.
However, about five years ago, he tried biking and said the emotional lift he received helped began a turnaround and now he's focused on helping others.
The state of Maryland, and the Department of Veteran Affairs has partnered with Wells and has granted him start-up funds to open American Group Fitness-AGX LLC, which he said will provide veterans with physical and mental difficulties and their families a safe and productive environment in which to lose weight, get fit and be supported.
"I served my time and when I came home I had healing to do. The VA helped me and now I want to help others," said Wells, a graduate of Purdue University.
"This community has taken me in as one of their own. I need to give back by helping everyone I can," he said.
Wells said exercise is therapeutic and it raises the serotonin levels in the brain that allows individuals to have focus and a sense of purpose.
"Group exercise like a biking class for example, brings about a sense of camaraderie and community. A 'we're in this together' mentality," Wells said.
"Vets need to stick together and help each other. In fact, all of Baltimore needs to stick together and collaborate and while vets are my priority, I also want to help Baltimore metro area," he said.
Research has revealed that veterans with PTSD and addiction issues can turn negativity into positivity through group exercise and support. In Wells' team driven setting, the goal is to create a fitness model that challenges the physical, mental and emotional agility of each client, he said.
Earlier this year, Wells also partnered with STM Cycling, an indoor cycling center based in Pigtown that takes spinning seriously by offering a highly scientific program that helps cyclists grow by tracking and monitoring three personal statistics: Heart Rate, Power and Rate of Perceived Exertion.
Hitting the goals requires constant mental focus throughout the workout, a practice that Wells said helps veterans keep their mind off of negative thoughts.
"My goal is to help vets and also those that want to use fitness as a catalyst to better health and mental wellness," he said. "I see myself as the connector if you will to bridge the gap between those in the business community and those in the mental health and fitness community. We can create a collaborative effort. It's a slow process for sure, but one day at a time."
Wells said veterans from around the world can also participate in the program via live-streaming classes. There is even an app for Wells' classes to track client's fitness statistics.
This is all very symbolic for Wells and his own healing, hard work and true grit. He was named one of Baltimore's 40 Under 40 by Baltimore Business Journal in 2016, among other accolades.
"I need to ride this wave, rise above and keep my vision going to get my business where I want it to be," he said. "It also means bridging the gap to make connections so everyone can work together for a greater cause and goal."
For more information on American Group Fitness, AGX-LLC, go to www.deandrewells.com.